Sunday, September 26, 2010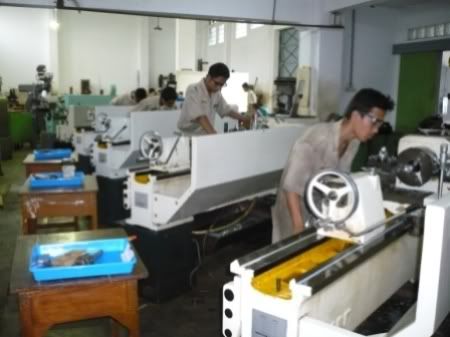 Understanding the function of G code and M code CNC lathe machine.
Basically cnc lathe or milling machine will work if we tell it to use the G code and M code.
But to understand the programming process, not an easy affair takes time and hard work.
The point is to create a program cnc lathe, we must master the technique GEOmetrick, because the formula is very closely related to the G code.
Here the function G code and M code cnc lathe, who knows useful for you.
CNC Lathe Machine
Function G code.
G00 rapid movement.
G01Interpolasi linear.
G02/G03 Interpolari circular.
G04 Left remained silent.
G21 Block empty.
G24 Determination radius of the absolute price programming.
G25/M17 Engineering sub programming.
G27 jump command.
G33 Cutting screw with the rotation stays the same.
G64 Motors not have current.
G65 cassette Services.
G66 Service RS 232 inter-apparatus.
G73 drilling cycle to the termination of shavings.
G78 threading cycle.
G81 drilling cycle.
G82 drilling cycle to remain silent.
G83 drilling cycle with withdrawal.
G84 Cycle elongated turning lathe.
G85 Cycle drilling.
G86 Cycle Threading.
G88 cycle is turning crosswise.
G89 Cycle pereameran to remain silent.
G90 Programming absolute price.
G91 incremental price programmimg.
G92 Registrar determination.
G94 Determination speed.
G95 Determination size.
G110 Flow surface.
G111 outer lanes.
G112 Flow in.
G113 outer Screw.
G114 Screw in.
G115 rough surface.
G116 Round rough.
Functions M.
M00 Stop programmed.
The main axis of the M03 clockwise.
M05 major axis stops.
M06 Long Count chisel, chisel replacement.
M08 starting point regulator.
M09 starting point regulator.
Ml7 command jumps back.
M22 starting point regulator.
M23 starting point regulator
M26 starting point regulator.
M30 Program end.
M99 circle parameters.
Compensation M98 leniency / hilarious Automatic.
G00 Rapid positioning.
G01 Linear Interpolation.
G02 circular interpolation CW.
G03 circular interpolation CCW.
G04 Stay.
G20 Programming in inches.
G21 Programming in mm.
G28 Return to home position.
G40 Tool radius compensation off.
G41 Tool radius compensation left.
G42 Tool radius compensation right
G43 Tool offset compensation positive.
G44 Tool offset compensation negative.
Thanks.