Tuesday, June 15, 2010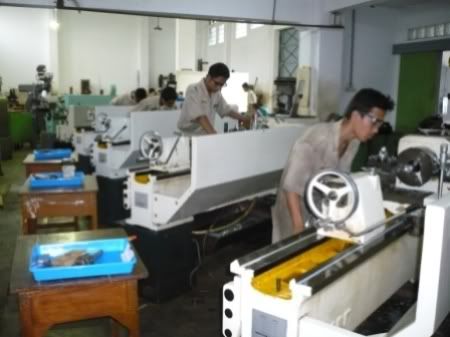 Lathe machine learning techniques, easy and fast.
Actually, to master the lathe technique is not difficult, but there are some things that must be considered.
Actually in this world nothing is hard, provided we have a seriousness in learning and focus, one of the examples studied engineering lathe.
I am writing this article inspired by the incident several days ago, where in my workplace in the open vacancy for the position of a lathe operator, and my own chance to determine the applicants to be accepted or not, because I believe in as head of production at company.
There are so many applicants that I refused, saying they were only brave enough capital, but have not the slightest lathe experience.
Try to imagine, there is one applicant to install a test when I was impressed confusion lathe work holding, work holding just can not put up, how about at work, would increase the number of material damage, hey, hey, he.
Perhaps you are curious, what's the secret to quick smart in terms of the lathe, the following should be applied.
-Must master various kinds of measuring devices, for example calliper, dial indicator, micrometer and much more.
Why would I suggest, because the size in use in the workshop of the world is very precise, and measuring tools on top of the mandatory in controlled by the lathe operator.
Image-reading techniques, maybe some already know, if the world's workshop using working drawings, working drawings projection of one American and Europe, the two images that must be mastered.
-And the last is a will and must focus.
Thank you, hopefully useful to you.