Wednesday, March 3, 2010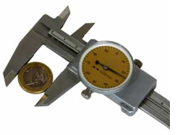 Know about gauge caliber.!
After yesterday's talks about a
lathe
,now I will discuss what's the caliber and how to treat them.
Workshop of the world-caliber name is familiar because it is very important tool in which all the usefulness of measurement of activity using the workpiece gauge caliber.
Caliber is a measure which has 2 functions for measuring the outer and inner
which has a level of precision that is one-hundredth (0.1) maybe if the object used to measure the small-caliber hair was still able to use.

For those of you who work in the garage I am sure you are not strange anymore with the measuring instrument.
According to this device type is varied, there is a 150mm, 200mm, 300mm and some have a meter.
Because these devices are susceptible to collision then be careful when using a caliber, you better be safe if it is good lathe operator you need to put in a safe place, in such a pants pocket or put in a separate place.
Keep in mind as a lathe operator, milling, CNC lathe scrap even you do not ever put the calipers on the engine when the engine alive, because only the effects of engine vibration can cause wear and tear of caliber, if worn obviously inaccurate measurement results.
Thank you hopefully useful, maybe you have a better experience, please share with me.